Ibenetor Company introduces Stonemaker unburnt brick press in Vietnam
Thông tin chi tiết
Comment
Ms. Nguyen Hoang Dung, General Director of Ibenetor Company, said that Ibenetor is the exclusive unit to import and distribute digital controlled unburnt brick presses of Stonemaker in Vietnam. Currently, the machines invented by Stonemaker are present in many countries and continents. In Asia, after the Philippines, Vietnam is the second country introduced by the company.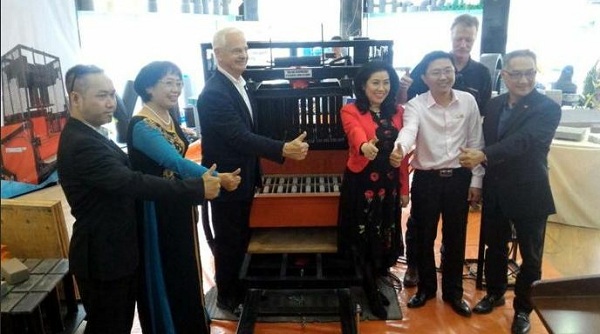 Ibenetor Company introduced Stonemaker unburnt brick press in Vietnam
Stonemaker DM 100 unburnt brick pressing machine is controlled by high-tech technology, minimizing the number of service workers. The machine is set to automatic mode, when the product has enough hard compression, the machine will automatically stop. A special feature is the machine does not make noise, no dust, no smoke.
According to the representative of Stonemaker, in addition to the hardness of 5 times the normal red brick, the ability of insulation, high sound insulation, the bricks after being made will be used within 24 hours, without wasting time waiting for a week or 15 days as some models are used in Vietnam. Thereby minimizing the storage area, yards, very suitable for the factory with small area.
Input materials are waste from foundation excavation, debris of demolition works, sand, stone, gravel, sawdust, coal slag of thermal power plants ... Additives to create adhesive in bricks available in water.
Stonemaker DM 100 is a versatile machine, with the only dual production system in the world that allows production of both mixed, dry types for paving bricks and block bricks for construction. The machine also provides customers with a full range of molds, dies and accessories, fully meeting the needs that customers require to serve production needs.
Bao Tran